Machinery Moving
Indiana & Southern Michigan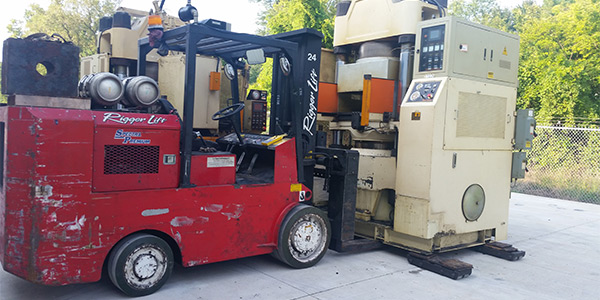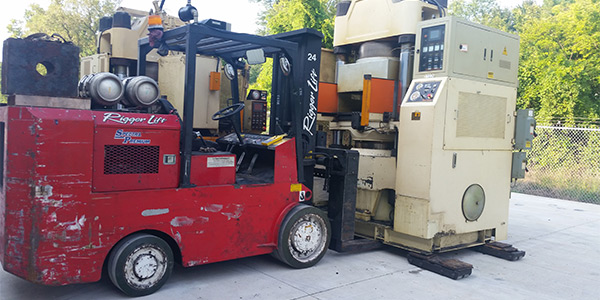 Have you recently invested in a new machine or piece of heavy equipment or machinery that needs moving in Indiana or Southern Michigan? Are you looking to optimize the configuration of your shop? Are you planning to relocate your company to a new facility? If any of these situations sound familiar, here's a look at how T&A Rigging, Inc. can help:
Machinery moving: T&A Rigging, Inc. is equipped to handle any and all machinery moving in Indiana and Southern Michigan. From wide loads to machines over 80,000-pounds, we have the flatbeds, step decks and three-axle lowboy trailers required to move your company's heavy equipment and machinery safely, efficiently and at a reasonable cost.
Machine installation: Whether you've had a brand new machine delivered or you're in the process of undergoing a move, our team is prepared and able to install them. The experience machinery riggers in Indiana and Southern Michigan at T&A Rigging, Inc. have the knowledge and equipment required to ensure safety and accuracy during every stage of the installation process, and we'll always work hard to meet our customers' needs.
Precision alignment and leveling: The heavy machines used in many industries may look like hulking masses on the outside, but on the inside, there are parts that require extreme precision to function properly. The overall utility of your equipment could come down to whether it's properly aligned and leveled on your shop floor. Let T&A Rigging, Inc. ensure your machines benefit from precision alignment and operate at their best.
Projects of all sizes: With a team of highly trained employees and all the equipment and knowledge necessary for any job, T&A Rigging, Inc. is able to take on projects of all sizes, from relatively simple moves of single machines to the restructuring of entire facilities. We'll even help you move your whole operation to a different site through our plant relocation assistance.
Specialized Transportation Services: Once our team of experts has designed and installed the appropriate rigging system for your needs, our job is nowhere near complete. Whether you're moving a machine to another place in your building or relocating it to a different facility altogether, we'll handle the process with our specialized transportation services with maximum efficiency and safety, allowing you to rest easy knowing your investment is in capable hands.
Contact Us
For all of your machinery moving and plant relocation needs in Plymouth, Lakeville, La Paz, North Liberty, or Wyatt, IN, or the rest of the state of Indiana and Southern Michigan, we hope you'll turn to T&A Rigging, Inc., your locally owned and operated machinery moving service. Contact us at 574-233-3074 to learn more about our rigging, machine maintenance, and fabrication services and schedule a consultation.