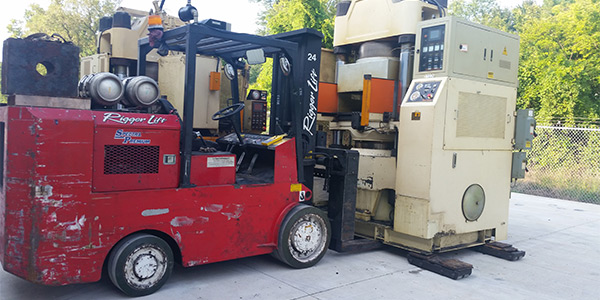 About T&A Rigging, Inc.
Founded in 2005 by Travis Horvath and Lawrence (Andy) Leed, T&A Rigging, Inc. is committed to providing high quality, honest machinery moving and rigging services at competitive prices. As lifelong residents of the South Bend area, our dedication to our customers is unparalleled, and thanks to the relationships we've developed over the years, we're proud to say that our business would not be possible without the loyalty and word-of-mouth reputation our customers have helped us build.
At T&A Rigging, Inc., we rely on almost 60 years of combined industry experience, our strong knowledge of techniques and processes and our constant development and fine-tuning of hands-on skills to ensure the successful and safe completion of our customers' projects. We aim for consistent, efficient work with minimal interruption, which helps us keep our costs low and strengthens the relationships we're able to build with our customers.
Our employees are critical to our success and our customers' satisfaction. Our professional skilled laborers are trained through a four-year apprenticeship, and our owners (who also serve as our estimators) put their considerable knowledge and understanding of machinery moving and rigging service in Indiana into practice every day. Here's a closer look at our leadership:
Travis Horvath (owner/estimator) was a member of Union Ironworkers Local 292 for 27 years, working with a local machinery mover and eventually becoming a general foreman.
Lawrence (Andy) Leed (owner/estimator) was also a member of Union Ironworkers Local 292 for 31 years, and eventually became a foreman with a local machinery mover. He also has experience with structural steel and steel fabrication.
Tara J. Horvath (office manager) has many years of experience in office management and a strong understanding of legal processes, manufacturing and jobsite safety (including OSHA requirements). She keeps things running smoothly for our whole team.
If you're looking for a reliable, trustworthy and dedicated company to handle machinery moving in Indiana, there's simply no better team you can count on than T&A Rigging, Inc. To learn more about our company, please call us at 574-233-3074. We look forward to serving you!